Today's guest post

is long overdue, like about 5 months-ish. My fault, not my guests. Cathy of Catshy Crafts has been lovely and patient and

BUSY!

This girl has been working hard! Just yesterday, she

WON

the Double your Followers with Creative Marketing-Best of Blog Tour blog
post contest! Woot! This was hosted by

April Bowles-Olin

, of BlacksburgBelle.com who has a Boot Camp Class going on over on CreativeLive.
She was

one of five

bloggers to win! I'm super happy for her and the other four, 3 of which I know and one I'm just getting to. They all wrote amazing blog posts and if you want some good biz info, interesting questions and some excellent answers, here is the link to find them all!
Here are some separate links for all of the five winners as well.
Cathy

is the creative "hooper" hero behind Catshy Crafts. She makes wall art for kids, home decor, embroidery hoop art, yarn wreaths and felt flowers. She specializes in great gifts that become keepsakes for moms, brides, new homeowners, besties and those who love handmade. Many pieces are truly customizable, making these gifts extra special.
I am now going to have Cathy tell you about herself and I am going to put in some awesome photos that she took of her beautiful work
.
Hi! My name is

Cathy Pascual

and I live in the beautiful Pacific Northwest. I make custom-made hand-embroidered felt art. I'm a mom of two beautiful daughters – the loves of my life! In my past lives, I've been a health writer, a fact checker, a public health researcher and professional scrapbooker.
What inspires me?
My daughters, beautiful photographs, flowers, books and other handmade artists who are doing what they love and sharing it with the world!
My
favorite item to make in my shop?

My absolute favorite thing to make from my shop is definitely my felt flowers. I hand-cut and hand-sew each felt bloom out of wool felt. From choosing the color combinations to cutting and shaping the felt by hand to stitching them together, I love every step! I add them to my

embroidery hoop art

, my yarn wreaths and most recently I've been making hair clips and brooches. I love felt flowers!
How I started my business?
Before starting my business, I was a stay-at-home for almost 6 years. I raised my babies and scrapbooked almost every day. I loved being creative, taking photographs of my family and preserving memories. I was even published in national scrapbook magazines and books. I also loved to create beautiful decorations and party favors for my daughter's birthday parties. In 2011, one of my friends noticed my love of creating and asked me to be a featured artist at the cupcake shop she was working at. I used this public art show as the launch of my business! I haven't stopped since!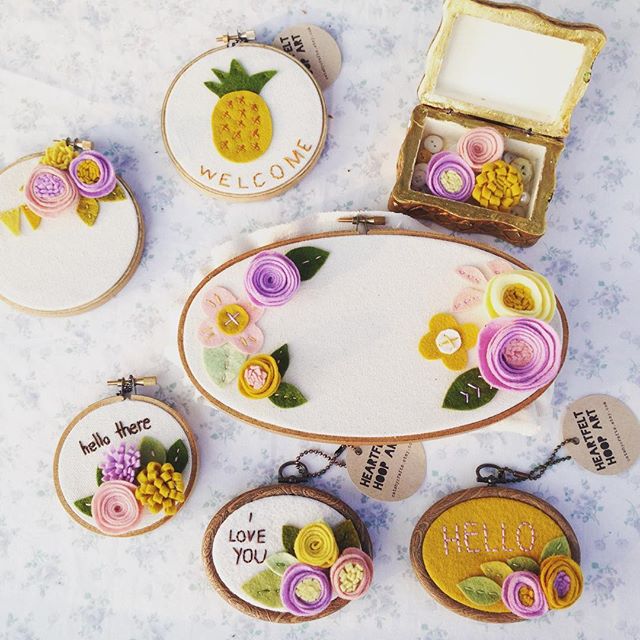 How my creative business has changed me.

Through growing my business, I've grown in so many ways. Not only has my confidence in myself as an artist and creative person grown by leaps and bounds, but I've been overcoming my shyness through my business. I credit selling at craft shows and attending creative business conferences and classes for breaking out of my shell. It's so much easier to talk about something you are passionate about with people who love the same things you do!
My most unusual or memorable way that a customer has used my hoop art?

Three beautiful brides (and counting) have used my hoop art as ring pillows at their wedding! I was honored to be part of their big day!
My art in described in three words

. Heartfelt, whimsical and Cozy.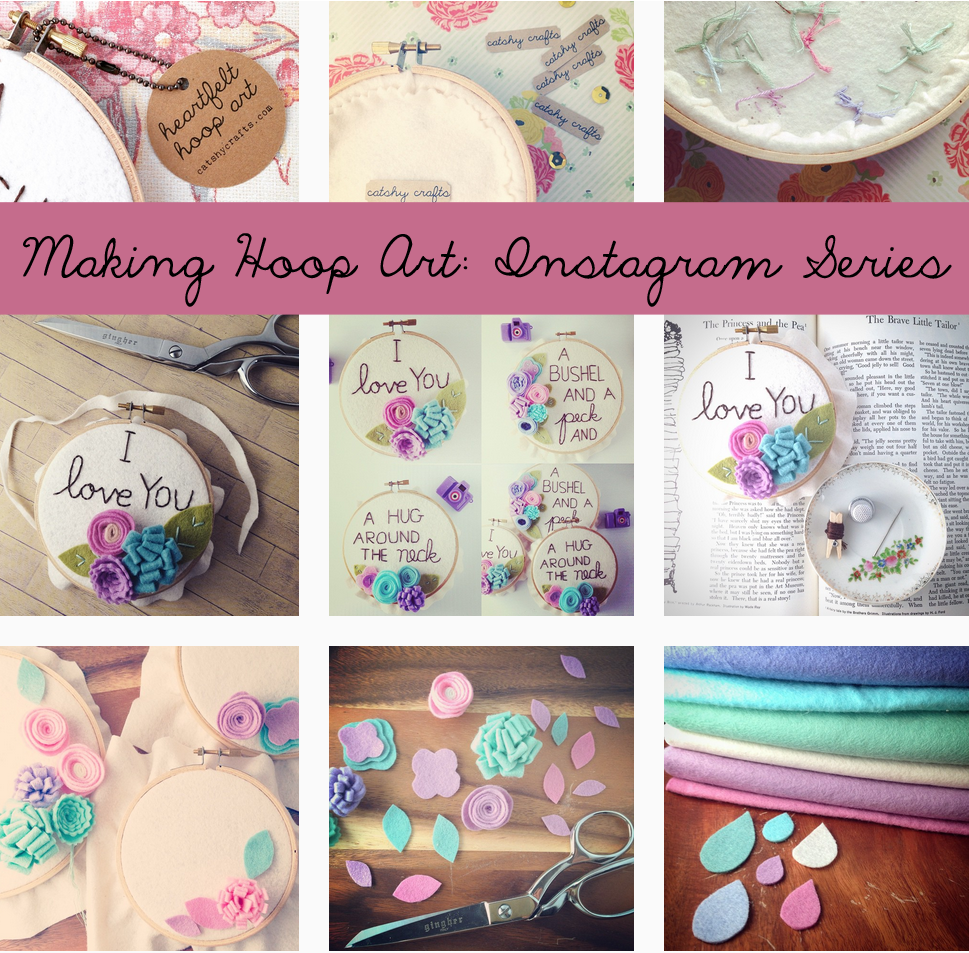 This summer, I became a featured handmade artist at Seattle's The Handmade Showroom, a pop-up shop open every weekend through October and daily in November and December.
http://blog.thehandmadeshowroom.com/
I have revamped my newsletter to include exclusive content not found anywhere else on the web as well as shop updates. To subscribe, go to
catshycrafts.com/subscribe
You can also find me at @catshycrafts on Instagram, Pinterest, Facebook and Twitter.
Thanks for stopping by Cathy and sharing your story. Your work is gorgeous and so creative!
And congratulations once more on your well deserved

win

that I chatted about above. Very well done!! I encourage everyone to go check out Cathy's blog post and all the rest if you want to learn a thing or two or three! :)
Stay tuned for another quick blog post later today with the first stocking of the virtual shelves of Domesticraft's Insta-Styled Stock Image Library! I can't wait to show you!!
Good to see you again, my friend! I hope you can take a moment and give Cathy some comment love! And do enjoy some good reading over the weekend with some very awesome blog posts, from people just like us!
xoxoxo
Nancy