This blog post is about my friend,

Dana

. We've known each other for about 4 months.

Really??

Even I don't believe that! We are total kindred spirits and were bff's from the get go! Kinda like Besties at first sight! Cue the glitter and mod podge, right?
She is one of those people that just

exude goodness

and

brightness

and

joy

and

humor

. I could hang out with her forever and never be bored! She brings out my sense of wonder and my creativity and my corny goofiness. She would give you the shirt off her back and help you out in any situation at a drop of a hat, (even moving and everyone hates that!) and she will do it cheerfully with a

beautiful smile

and

genuine heart

. I adore her.
She is a

Nanny

by trade and an amazing crafter/artist/maker, and a loving wife with 4 kiddos. Her blog name, Dapoppins, is a take on Mary Poppins. Dana, to me, makes Mary seem like the Wicked Witch of the West . . .

yes

, she is all that & a bag of

Crispy Baked Chickpeas Snackitty Snack Mix!

(I am making some of these tomorrow if anyone wants the recipe! They are the bomb, as long as you don't burn them, word to the wise and all that!)
Dana has a

Nanny Bag

, not unlike Mary. I do sometimes wonder what is in that bag, like for reals . . . how is she just so flippin' nice all the time?? Did I mention, I adore her?
Dana and I are working on a collaboration in February, so I am going to try and sneak a peek in her "happy bag". I'll let you know if it's the least bit interesting.
I am also going to bring it to her attention in a few years, that she will want to double up on whatever it is, that is in that bag, when menopause hits. Just sayin' :)
This photo is stunning and beyond cute! She so has the eye for cute!
Dana just recently got a gorgeous new haircut, hence the awesome "Look at me, I'm so pretty" selfie She's workin' it.
(Hey, Dana! Hubs thinks you look like Sandra Bullock in the far left photo! I think you're cuter! :P
)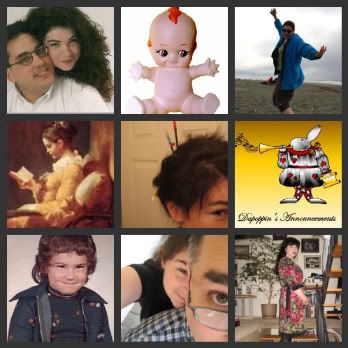 The above collage of wonderful photos are so neat! I look at them and smile. :)
Dana's turn to chat a little now. Okay, Dana . . . take it away!!
My blog is about telling stories. Telling the stories of my life, my career, my passions, and encouraging others to tell stories. With a more than 20 years of "Umbrella Magic" and Nanny wisdom thrown in.
My Point of View: which is occasionally inspiring and entertaining.
Nanny life and loves -things like books, kid-items, and crafts that I do with kids.
Some paper-craftiness thrown in, because it is one of my passions that I love to share

.
That's Dana's word for the year. Fearless. I love it? It's going to be even cooler hanging out with her now, being all fearless and stuff. :) There is nothing about the photo above that I don't love!
Dana is on the Craft Warehouse Design Team. I think her gig goes from August 2014-August 2015. She has a blog post that just went live today and then she is having a feature on the http://shopcraftwarehouse.blogspot.com/ where where she is going to create and make something amazing! I don't even know what!! I can't wait!! Dana, when is it?? Sorry, I forgot! I got distracted by your Sandra Bullock cuteness! ;)
Craft Warehouse

is an awesome and local (Pacific Northwest USA) craft haven! Word just came out that they are opening up a store on my end of town now. In March! I just moved from that end of town last September, where there was a Craft Warehouse and a Craft Warehouse WAREHOUSE! I know, it was awesome! I spent some good bucks there and I think they must miss me! However I am on a no spend, craft and/or thrift hiatus for 2015. I'll even be giving some

online classes

on

some

amazing projects

for busting your craft stash!

And I'll be having lots of

free tutorials

on my blog as well!
Here is a little tidbit about the inner workings of Dana's creative mind:
"I was working on something else when this guy just appeared...
It was the start of a sweet whimsy face, but this little lost fellow came out of no where. When I plot a story I usually start with one scene, one idea. When I work on a page that will go into my art journal, I do the same. The idea was to practice making cute, adorable girl faces, but what I ended up with reminds my boys a little too much of this character called Slenderman. He's some freaky guy from a video game they are not allowed to play but still know all about."

He looks like a bit like a skeleton to me. Or a forgotten harlequin doll lost in the attic, or the Moon Man looking for a friend. So what do you think. Want to play?
The below photo is one of my favorite pieces! It rains a lot here in Portland and it makes for some particularly gloomy days. Today seemed pretty much night time . . . all day long! I usually love the rain, but sometimes I crave the sunshine more than I love the rain. This mixed-media framed art is just so cheerful and makes me not sweat the need for a sunny day . . . as much. Isn't it cute? I'm pretty sure she sells these too. If she doesn't, she will be, cause I want one!!
.
That's it for another Saturday Shout-Out! I hope you enjoyed reading it as much as I have enjoyed writing it. It certainly reinforced in my heart, what a good and true friend I have in Dana!
So let me know, what do you think is is her "Nanny Bag" and should I force her to share?? ;)
Please check her blog out and give her some comment love over there too!
CRAFT HAPPY!